February 12, 2011

Martin-Marietta, East Alamance Haw River Quarry, Haw River, NC. Tom Todaro, field trip director
of the Tar Heel Gem & Mineral Club put together a great field trip to this quarry. There were over 30 people that showed
up on this perfect weather day. Everyone was prepared with the required accouterment of hard hat, and steel toed boots.
A few required forms to read and sign and we were off into the mine. The picture below is a panoramic shot of one of the
walls in the quarry. You can click on the picture to bring up the large version.

We were given little information on what minerals could be found here, but we knew zeolites had been found in the past. Zeolites
contain silicon, aluminum, and oxygen in their structure and water or other molecules are trapped within their pores.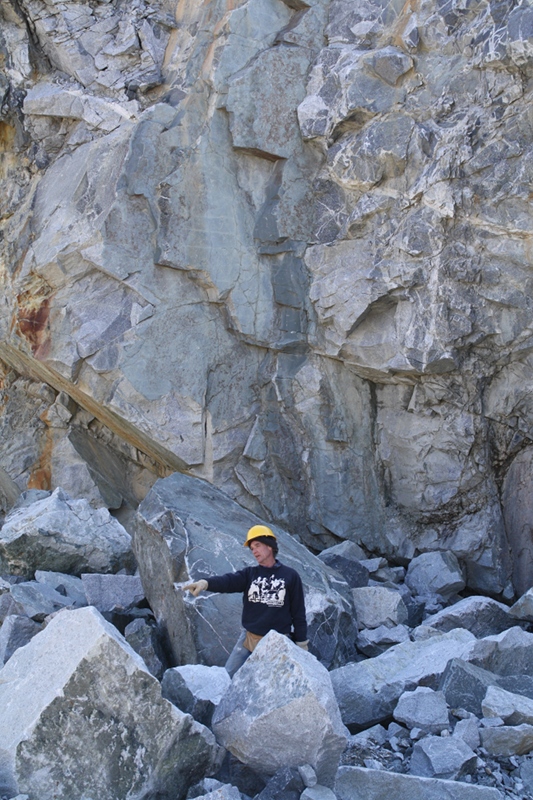 Many of the pockets were very small and located on the sides of huge boulders. Joe points to such a pocket he found.
Although not good for collecting, we got the chance to observe and record what could be found at this quarry.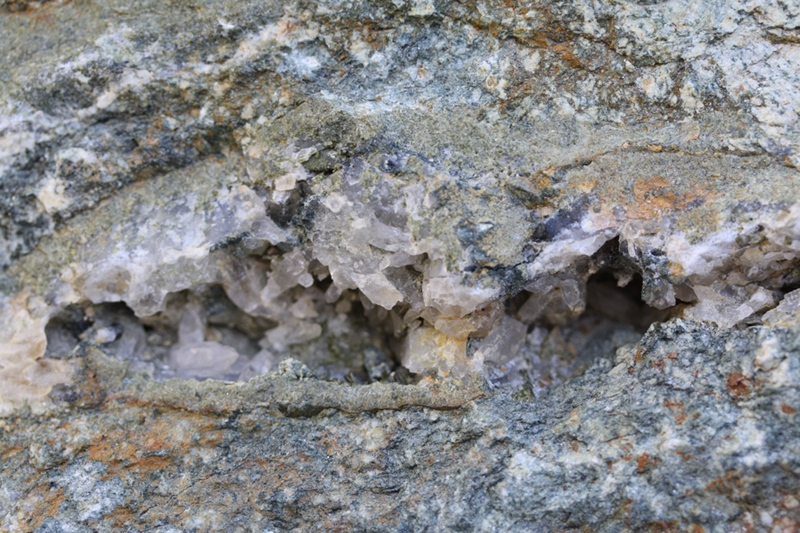 This was the pocket Joe was pointing at on the boulder. Small quartz crystals can be seen in the pocket.
Although it can't be seen in the photo, small traces of zeolite minerals were in there too.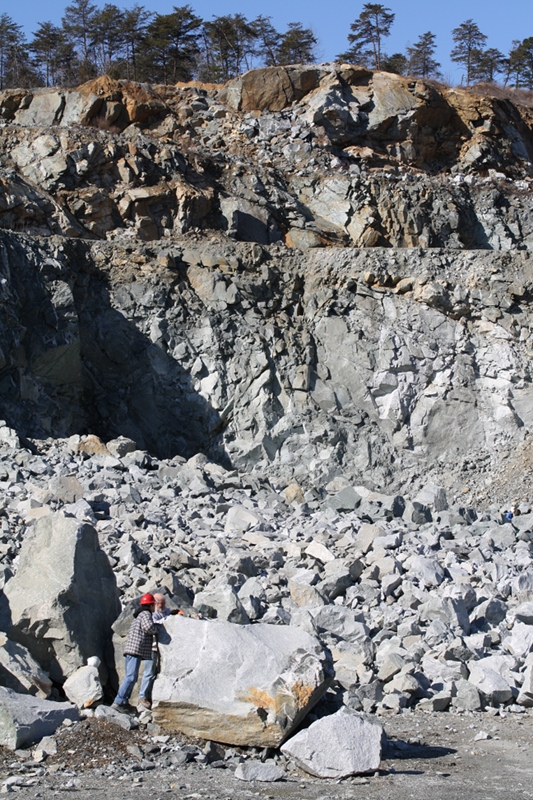 Tom Todaro watches as Kenny Gay chips away at a boulder he found with numerous small vugs in it. Quartz
crystals were the dominate feature in those vugs although there may have been much more to offer once he
got his specimens home to clean.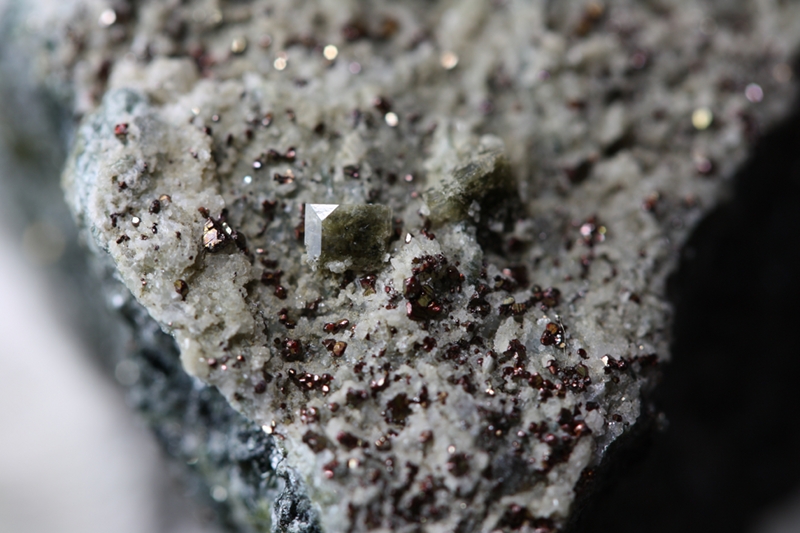 Fortunately there were specimens we were able to chip or break away from some rocks or boulders.
This specimen has a nice green epidote crystal and numerous chalcopyrite crystals on matrix.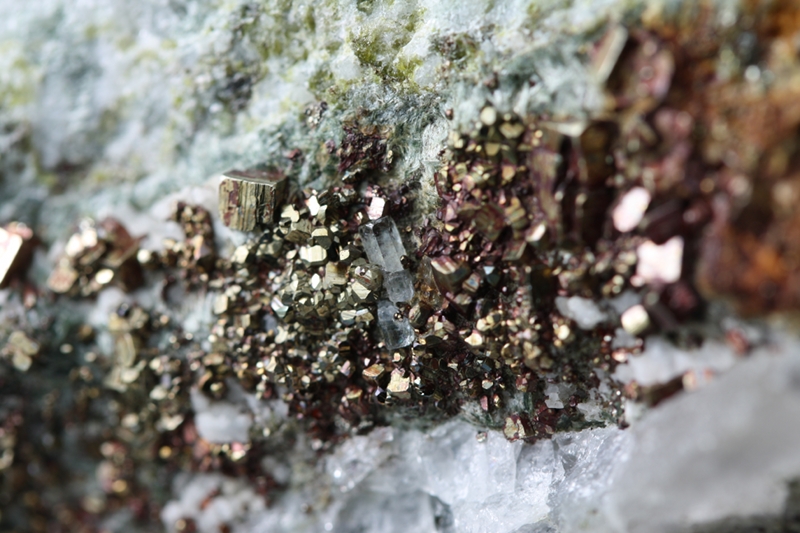 The clear hex shaped crystal in the middle of the bed of pyrite and epidote (above)
was different than any other crystal I had yet seen from there.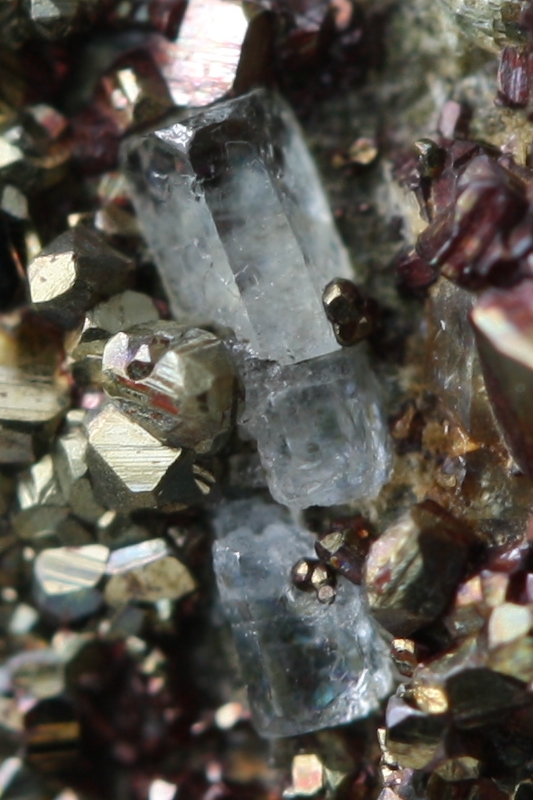 A little research and help from my very knowledgeable friend Dennis, and we agreed that it was apatite.
I would never have spotted this apatite crystal without a loupe. I only took this specimen home because I liked
the pyrite druzy. It wasn't until I got home and looked at it through the loupe that I discovered this crystal.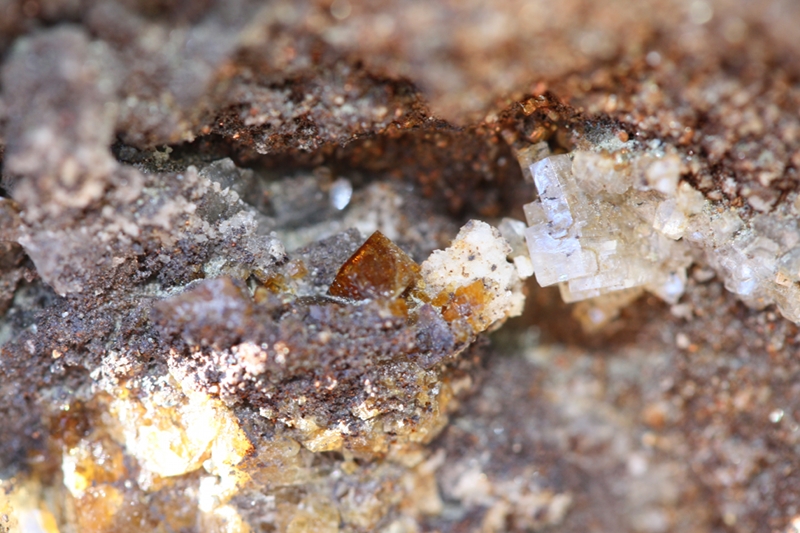 This was one of the specimens I could not physically take home because it was on the side of a giant boulder. This
is a good reason that a camera can be an important tool to have. Although different colors I believe the minerals in
this picture is chabazite.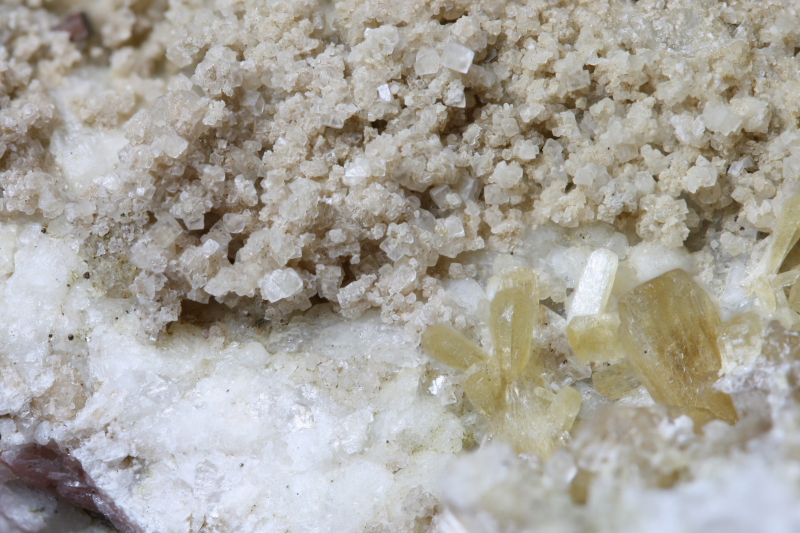 Chabazite in the upper part (white) and stilbite in the lower half (yellowish brown).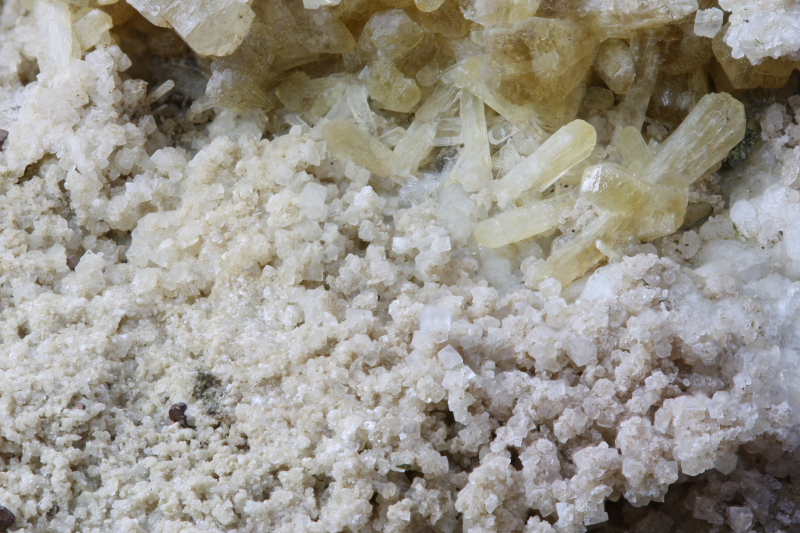 Here is another angle of the same specimen in the previous picture.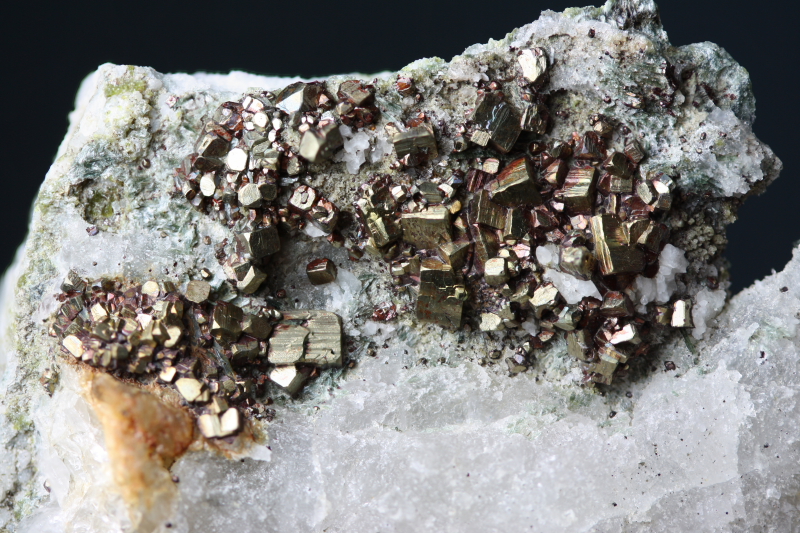 The pyrite druzy was fun to find there. As you can see it is very photogenic.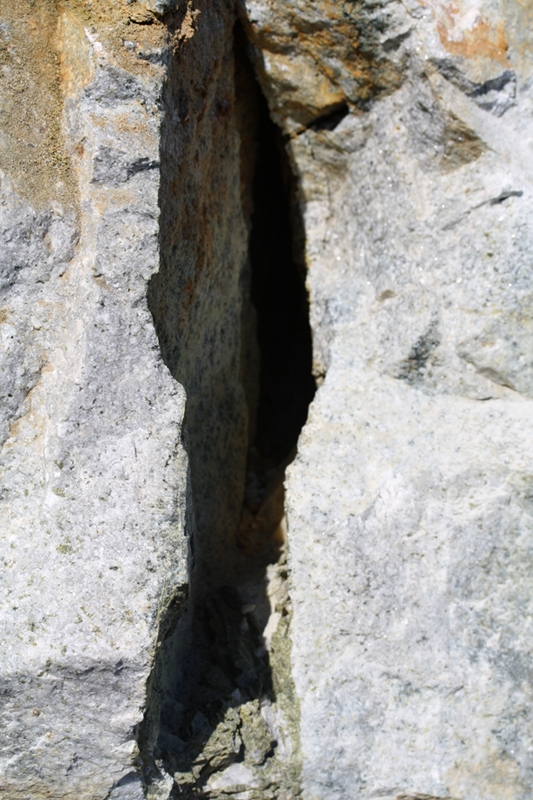 This was a vug I found in the same boulder that Kenny was working previously. Although it was almost
completely void of minerals, there was some nice epidote crystals growing on the bottom of it.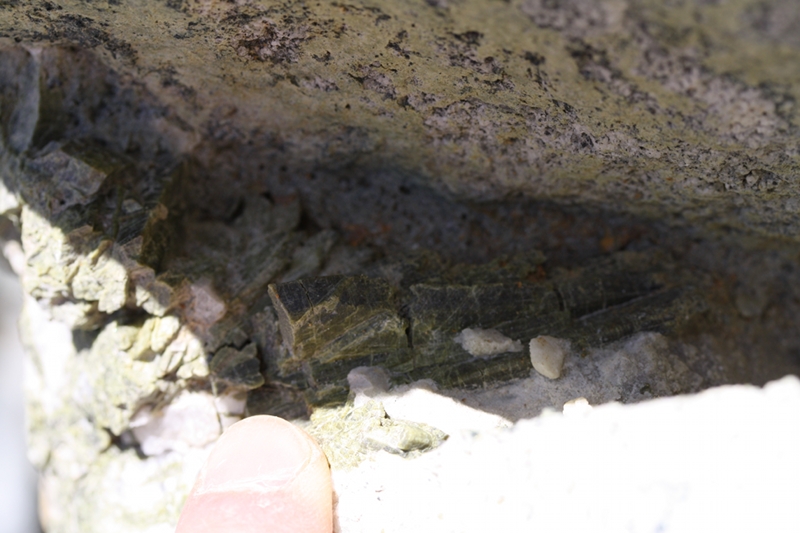 I could only observe and photograph them since trying to chisel these crystals out would only destroy them.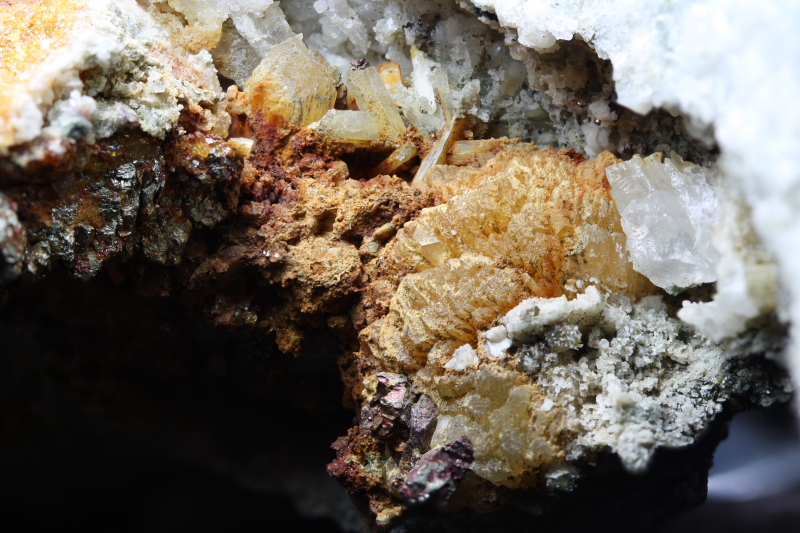 This small vug in a rock I found made it home with me. A bloom of stilbite grew in this vug.
It looks like chalcopyrite growing on the stilbite crystal.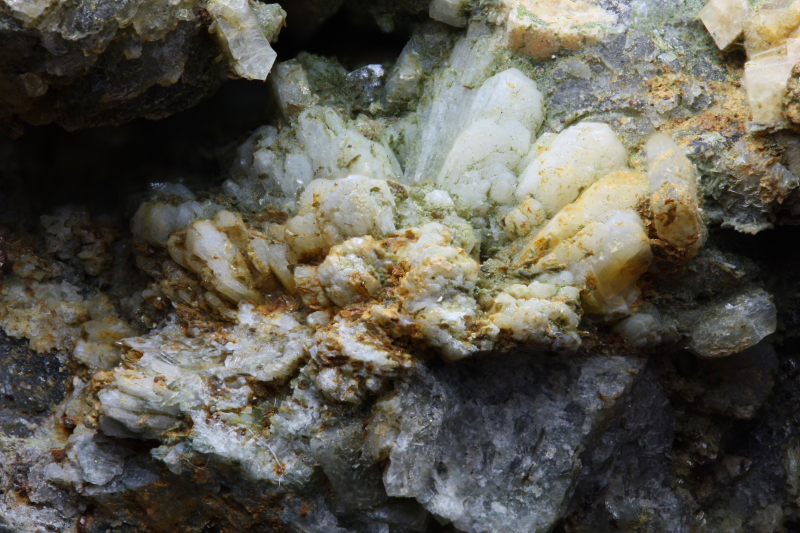 More stilbite.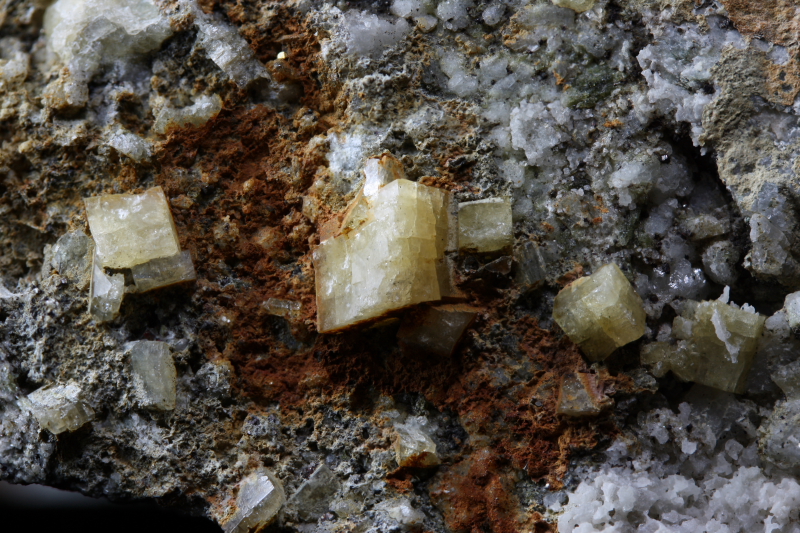 Another good specimen of chabazite crystals (above). We all had a great time at the Haw River quarry
and everyone went home with some nice specimens. I will look forward to my next visit here and
now will be much more prepared for what to expect here. Thank you Tom Todaro and the
Tar Heel Gem & Mineral Club for hosting a great field trip to the Haw River quarry.