Diamond Hill Quartz Prospect
Antreville, South Carolina
Nov 6-7, 2009
A MAGMA club dig.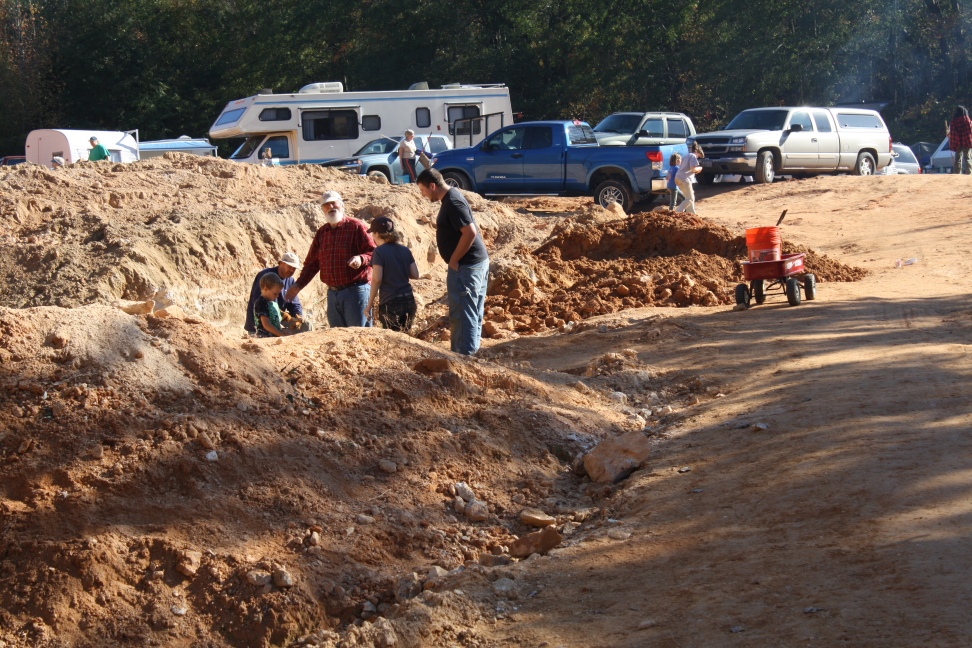 The attendence at this dig was overwhelming. It is obvious the word has spread about the awesome
quartz specimens that can be found here. But who can blame them? There are not many places on
earth that you can come to collect such a wide variety of fascinating and beautiful quartz specimens
all in one spot.

The man that resembles Santa Clause in the picture (above) is Lee Fleming, one of MAGMA's
best supporters. Here he is showing the kids what to look for and where to find it.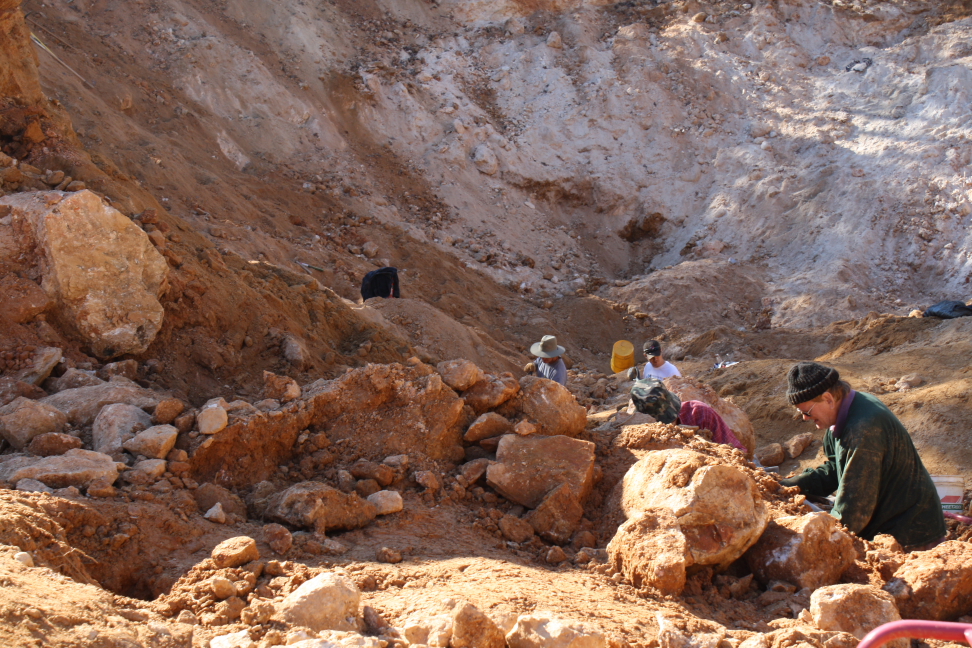 The crater in the background is where the amethyst pit is. The veins that have run
through this area have in the past produced museum quality giant amethyst crystals.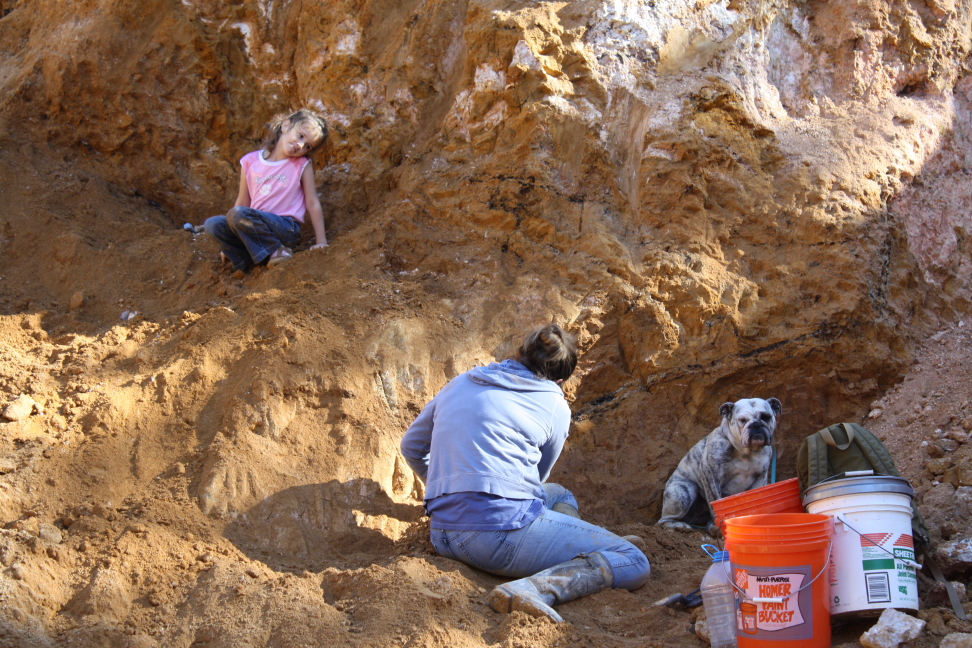 Kids, adults, and dogs love this place. That's everybody!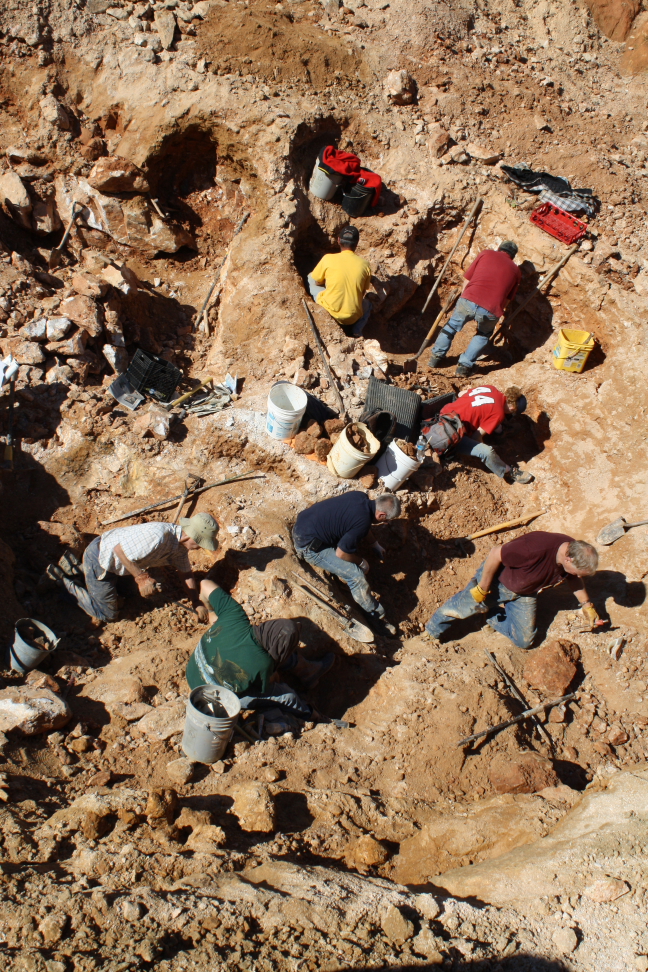 Here is the area where an unusual type of quartz is found. I would call this quartz a hybrid
between skelatal and artichoke quartz. At the end of this report I have pictures of a few
specimens I found in this pit.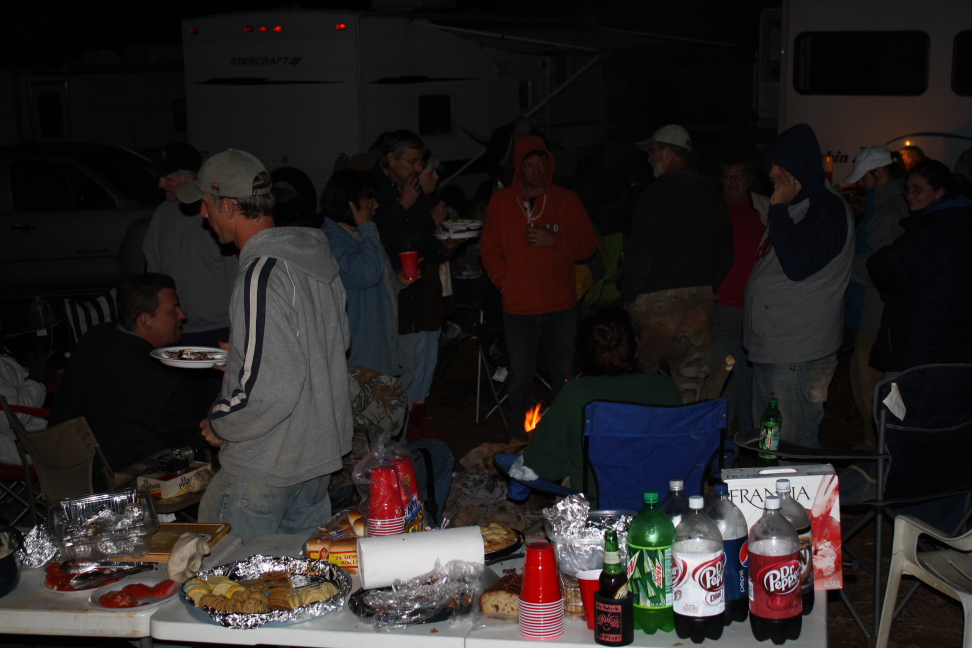 Friday night was pot luck night. Everyone chipped in and brought food and drinks to share
with everyone there that evening. The food was great. A huge thanks to Lee Fleming and all the
others who selflessly prepared and shared the great food.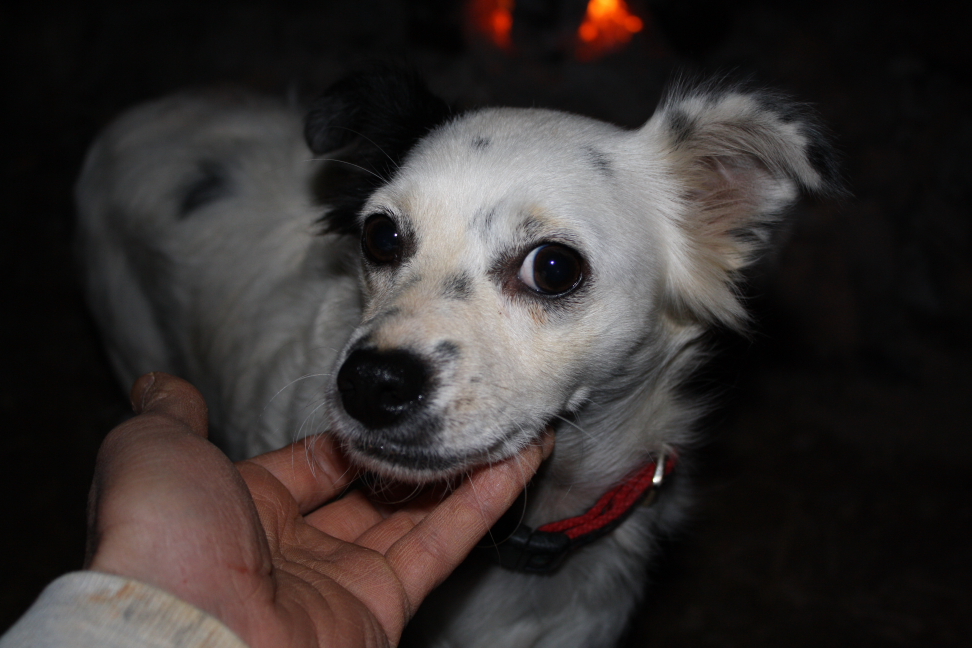 Daisy got a lot of attention, and seemed very complacent.
Later the next day a gentleman broke into a hollow pocket of very nice quartz crystals.
I thought the scaly clay formations on the outside of the crystals were very interesting.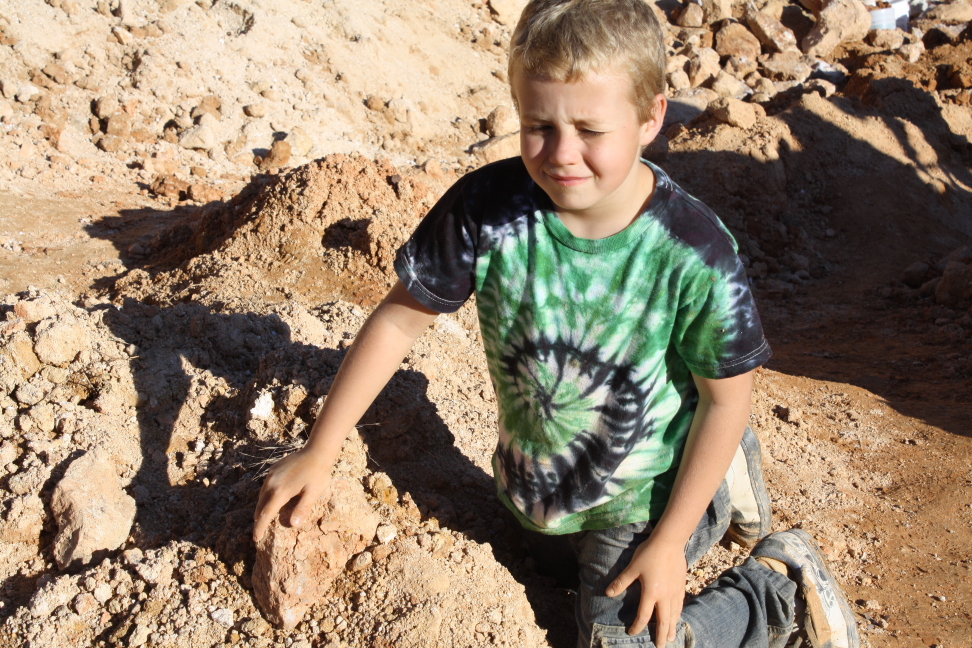 Zeb, blinded by the sun proudly claims his find.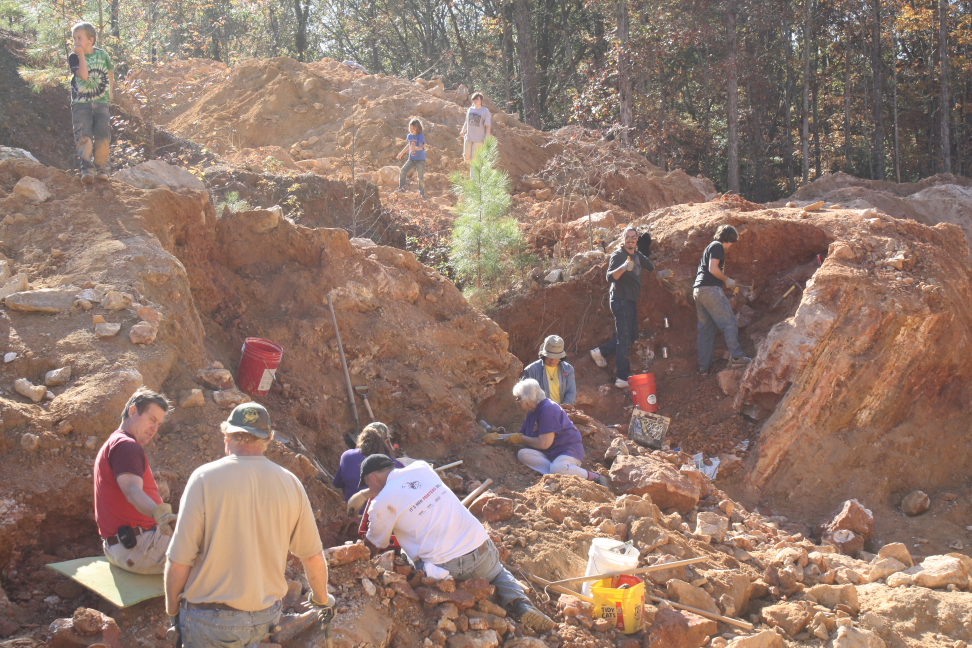 This sand box was full. It was great to see so many people getting along and having fun.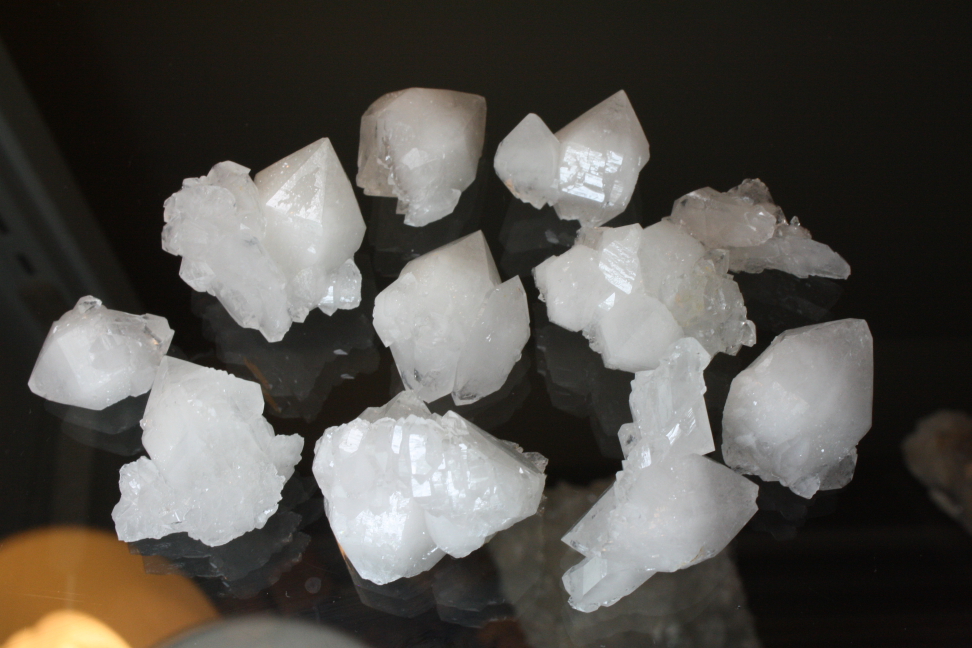 Here are some milky floaters I found in a clay pocket buried under a thousand
pounds of rock painstakingly pried from a quartz vein in search of crystals.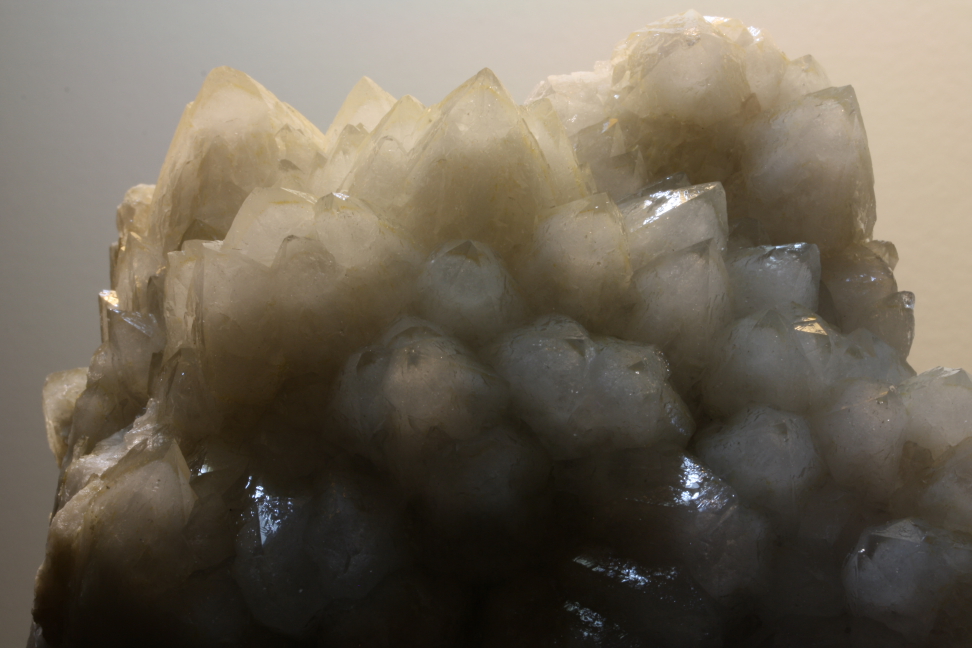 Here is nice cluster of milky phantoms I found on Saturday.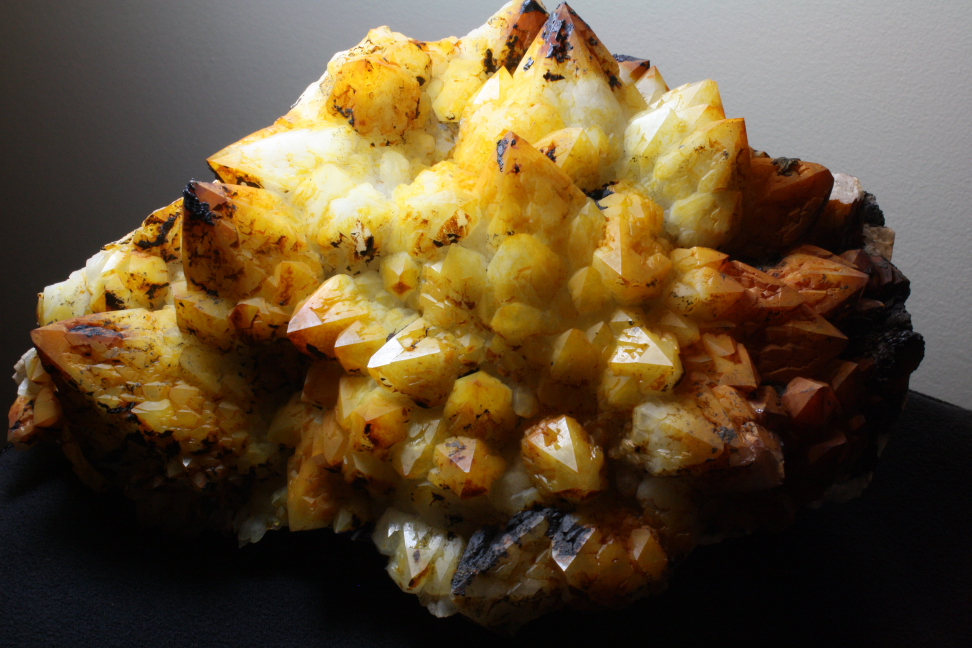 This is the kind of stuff most people are looking for in what is known as the "skeletal pit".
This was one of the pieces I found on Saturday. The coating of yellow, orange, and
black is from iron and manganese oxides. There appears to be both features of
skeletal and artichoke quartz together in this specimen. It is usually desirable to clean
the oxide stains from quartz using acid, however, in the case of DH "skeletal" quartz,
removing the stain would only take away from its beauty. The stain adds a warm,
comforting color, and helps to enhance the intricate texture of the quartz faces.
Here is another unusual specimen I found with what I believe is a coating of
botryoidal manganese oxide over quartz crystals.

Although one of the big draws to this place is the great amethyst crystals that can
be found here, I had never had the opportunity to dig in the "skeletal" pit when the
veins were exposed. So it was the skeletal stuff I went after the entire weekend.

The mine owner recently excavated the bottom of pit, clearing several feet of
mud, clay and rock debris that had settled on the bottom. This allowed everyone to
find and recover specimens straight from the source that was hidden underneath all
that muck. In my opinion this is the best kind of digging. It allows you to see what
it looks like in situ and it gives you the chance to be as careful as needed to extract
the specimens with minimal to no damage. Thanks MAGMA for another
successful dig at Diamond Hill!